books, games and life
My undergrad student life is coming to an end next year, and I've going through some thoughtful phases. I've been swamped a lot of academic articles, critiques, and such texts for school lately, but I've picked up some other readings for my personal enjoyment too. These books have been helping me cope with the intensity of being an anxious 20-something::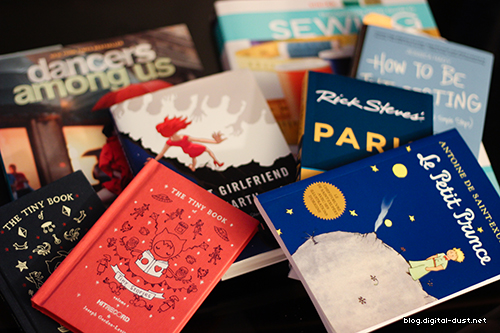 I usually carry one of these day-to-day! They're not really epic novels or self-help texts, but I highly recommend books like these for light reading and a little introspection. If anyone's interested in what's been on my mind lately, here's the list:
Le Petit Prince by Antoine de Saint-Exupéry
How to be Interesting by Jessica Hagy
The Last Girlfriend on Earth by Simon Rich
Dancers Among Us: A Celebration of Joy in the Everyday by Jordan Matter
The Tiny Book of Tiny Stories: Volume 1 by Joseph Gordon-Levitt
The Tiny Book of Tiny Stories: Volume 2 by Joseph Gordon-Levitt
Rick Steves' Paris 2013 by Rick Steves
The Complete Photo Guide to Sewing by Singer
I'm relearning and picking up my years of basic high school French again, because of my current goal to travel to a certain place next year… 🙂
Here's some other stuff: my preordered Wind Waker HD bundle came in last week, and I'm enjoying it a lot. Ate delicious meat at a restaurant, and went on an outing to a lake.
a warm day at the lake
September 29, 2013 - 10:12 pm |

Comments