Every year, I get a chance to be part of the awesome Black and White Ball staff at FanimeCon in downtown San Jose!
There were lots of fun moments teaching, meeting new people, doing shenanigans on stage, and overall having a great time with friends throughout the weekend. My dance partner and I got a chance to perform at the Black & White Ball, and here's a clip:
So… I graduated last Thursday! With all the constant activity and craziness happening immediately after graduation, I haven't really had a chance to sit down and process/reflect on things. I have another teaching-related summer gig coming up which I'm extremely excited for, so I'll still be keeping busy.
Now to experience what the rest of post-grad life will give me!
May 28, 2014 - 11:52 pm |

Comments
Sometime last year, I picked up a few patterns and relearned how to use my sewing machine. I attempted a few skirts and small projects, and eventually made my very first full dress back in September!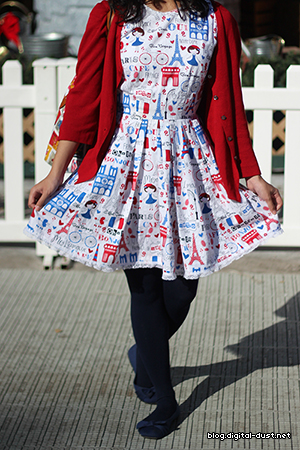 I made my second dress a few weeks ago. It was kind of a rush job because I wanted to wear it to an art event in the same week, so my craftsmanship wasn't the greatest this time. But I'm learning rather quickly, and the dress fits me well! I call this: THE BOAT DRESS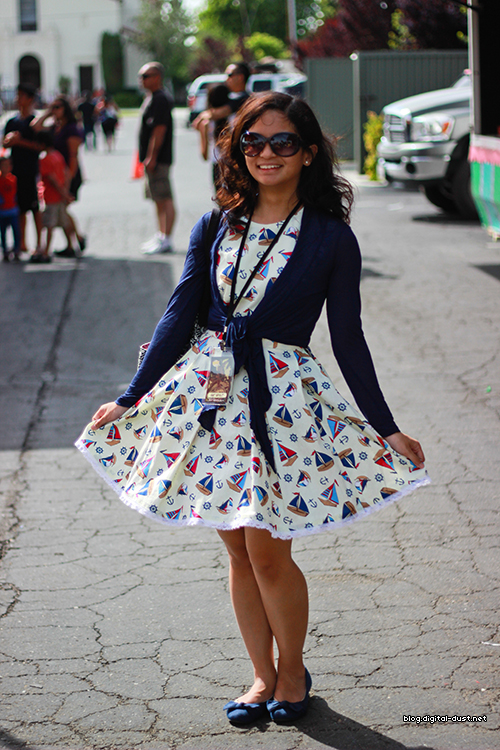 Either thats a heck of a shadow on me in the photo or the California sun must have been really nice to me lately, because look at that tan!
I really enjoy making my own garments lately, especially when I can custom fit them really well to my petite size. Looking forward to trying more challenging projects and improving my craftsmanship in each one.
May 19, 2014 - 2:44 pm |

Comments
This semester, I had the opportunity to work on a group project for an SJSU exhibition to be featured at the ZERO1 Garage in San Jose. The result was a fun and interesting and collaborative work about USBs and the alternative forms of data exchange in a social and interactive environment. It was a lot of fun showcasing our project to a large and friendly audience on First Friday!
My particular assigned group made a sushi boat-inspired waterway to deliver our USBs. On the night of our opening, we acted as sushi chef and hostesses to the audience as a performance for our piece. It was really silly, and a lot fun.

Two short clips showing our project in action:
It was my first time exhibiting a work in this way, and it was a great experience!
Another project that I worked on in a class over the semester for a gallery was this, titled Mobile Eye View:
It was a collaborative work with other students in my class to photograph showcase their final pieces in a "virtual gallery," but with an interesting and/or unexpected perspective. The online part of the project can be found here: http://digital-dust.net/photo120/6.html
Welp, it's kind of hard to believe, but I'll be graduating with a BFA in Digital Media Art next week! It's been a crazy and wonderful 5 years of growing, learning, and creating at state. I look forward to continue working on new art, new processes, and new projects as more exciting opportunities come up!
May 14, 2014 - 9:59 pm |

Comments