disneyland: 60th anniversary celebration trip!
This is a very delayed post, but I wanted to finally upload and write about a great summer trip I had not too long after FanimeCon, especially after seeing a lot of friends posting about Disneyland lately. In between all the dancing, training, working, and adult-ing throughout the semester, we finally had a vacation to check out Disneyland for the 60th Anniversary Celebration!!
(The following photos are a combination of DSLR and smartphone pics…)
Thursday – Friday: We left late in the middle of the night, around 3am, then arrived in Huntington Beach early Friday morning.
We walked around the pier and the shops in Huntington, then had a nice drive back to Anaheim in the afternoon. The rest of the day we planned to spend in Downtown Disney and resting in the hotel. We got our tickets for the weekend, then had dinner at Bubba Gump Shrimp!
Saturday: The next day, our first theme park stop, was California Adventures!
One of my goals was to eat as many Disney treats I could find, especially new 60th Anniversary exclusive ones.
Surprisingly, I saw the Cars movie for the first time this year (I know!!!). I think it's one of my favorite Pixar movies. So, we visited Lightning and stopped by the Cozy Cone Motel!
Radiator Springs is my favorite ride of the park! We were in line for a good hour+, but we passed the time by playing Ballroom/Latin dance charades on our phones, naming and playing off different dance styles. The people around us watched and were quite impressed/amused.
The afternoon parade:
To end the night, we saw the new World of Color show… it was AMAZING! And even better because SPOILER ALERT- Captain America was in it!
We ended the evening with one last ride at Radiator Springs, grabbed dinner at Bubba Gump Shrimp, then went back to the hotel and watched Cars 2 until we passed out.
Sunday: The next day was Disneyland!!
It was really hot, and more crowded than we would have liked (we were thinking we could avoid the crowds early enough before schools got out for the summer, but it was still very packed). We still had a lot of fun, and Disneyland was as magical as ever.
I ate so much food; I wanted to try out ALL THE FOOD AND NEW 60TH ANNIVERSARY SWEETS I could find.
Here are some photos taken from my camera (50mm lens) for Disney's new evening show, Paint the Night. It was lovely, and the light-up costumes were my favorite part of the show! That's the kind of technology I would have loved to dabble in during my undergrad program.
The new fireworks show was unfortunately cancelled due to winds that evening. We heard it was a great show, and were sad to miss seeing it in person!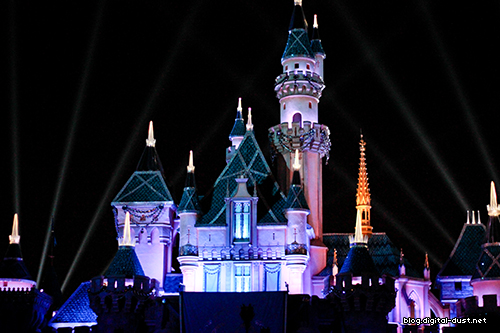 Monday: We went to Goofy's Kitchen for some character dining and got ourselves a good meal before heading out on the road again.
After our last bit of shopping at Downtown Disney, we finally headed home. It was kind of the first real escape I've had from work, home, a stressful moving situation, and even dance-related responsibilities in a long while, and was much needed. This was really only the second time I've been to Disneyland, so I'm glad to have experienced the 60th anniversary celebration while I could!
Until next time, Disney fans! Will soon be back to your regularly scheduled nerdy posts and dance stuff.