trip report: D23 expo!
From July 14th through the 16th: I had the time of my life attending my very first D23 Expo!
SO and I like to go to Disneyland often, plus attend a lot of local conventions, so we consider ourselves decent nerd-fans and somewhat con-experienced. But D23 would be the largest event we've ever attended, and we wanted to do it right! Se did some preparations and research: watched videos, planned out our itinerary, wrote down panels, considered backups, and anticipated long lines. I bought my first Gold Membership in hopes of being able to use some of the line benefits. We got camping gear and Japanese snacks for potential overnighters outside.
I asked him, "are you willing to actually spend the night in line to attend this one panel the next day?" And he was like, "yes!" "ARE YOU SURE? Because I'm pretty darn crazy/nerdy and I totally understand if you don't have the patience for that." I picked a great guy!
I was so excited about the weekend, and a little anxious, because I'd be seeing a whole lot of Disney and Marvel things, and hoping for some neat moments and cool swag! As a huge Marvel fan, this was a pretty darn big deal!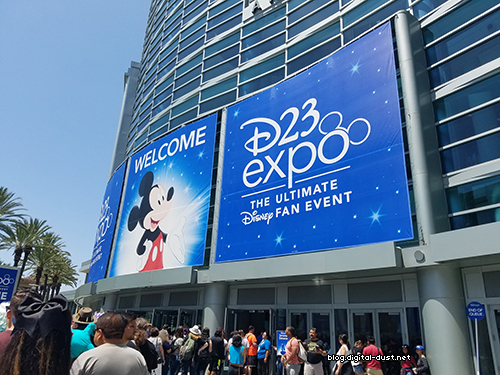 Thursday
We left late Thursday night (later than we would have liked), after we both got off of work. We arrived at our hotel at 3am in the morning… we were supposed to be there way earlier than that. Oops!
Friday
So, we messed up and woke up late, and didn't head over until about 11am or so- an unplanned late start to the day. But I guess we came in at a good time anyway- the lines outside were deceivingly long at this time, but they moved quickly. Here was our first taste of Lines upon Lines.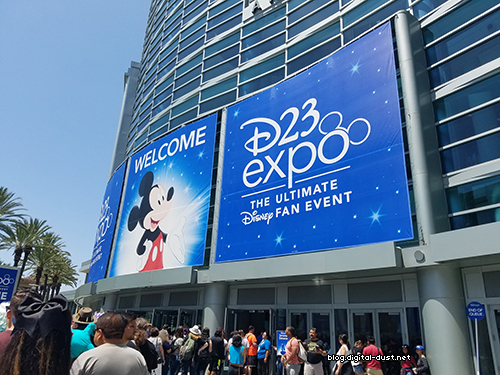 We skipped inside, jumping for joy, and we were impressed/overwhelmed by all the STUFF on the showfloor! That day was spent looking at whatever we came across and figuring things out.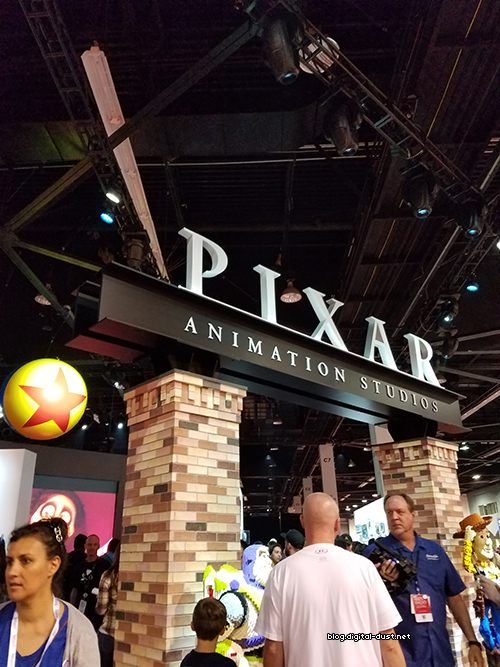 We got to see a scale model of the upcoming Star Wars Land.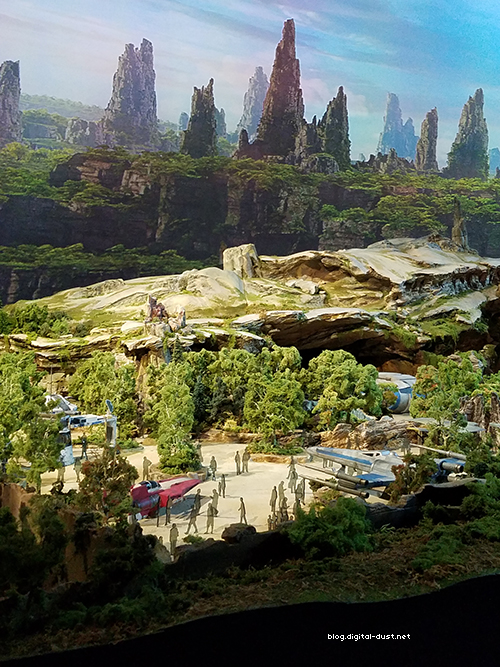 We attempted our first shopping experience for one of the big 3 stores: Mickey's of Glendale. It was about a 2 hour wait, I think. The people waiting around us were really pleasant and friendly, and we chatted with the cast members too. We thought the wait was worth it for the cool Imagineering merch. And the way our weekend was planned, it ended up being the longest we would sit and wait for something on the show floor.
Just a snippet of things I got over the weekend…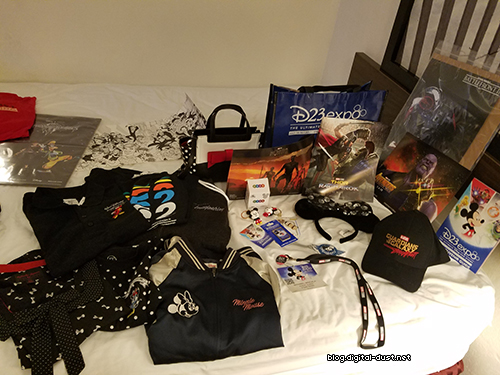 One thing we learned was that many booths were having random giveaways throughout the day. We checked out the neat costumes and statues at the Marvel Studios booth, and were kind of swimming in the middle of a forming crowd (I couldn't tell where crowds and lines ended/began). I started talking to a booth worker and asked him about his awesome Marvel Studios lanyard.
"Well actually, we're having a lanyard/Thor poster/Black Panther giveaway in about 10 minutes, and you're basically already in line!"
Well dang! My first official accidental Marvel swag of the weekend! I was so excited!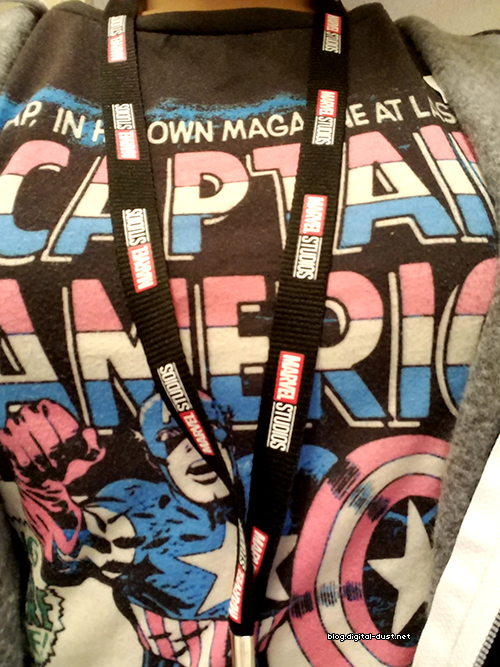 We went back to the hotel around 5 or 6 to nap, grab dinner, and get ready for the big event of the weekend: queuing overnight for the next morning's Live Action panel!!
Apparently, overnight queuing was officially scheduled to start at 10pm. I thought, no big deal, we'll get there at around 9:30pm, and we'll be good to go! Surely there won't be that many people sleeping overnight this early.
When we got there before 10pm, there were already like 1000-2000 people already waiting outside. How insane was that?
We made friends with the people behind and in front of us. We became buddies with a college-aged student from central California, and his sweet mom. He complimented my SO's calves. It was nice. At midnight, we made it inside the building (with wristbands and a guaranteed spot for the panel).
Saturday
The hall was like one giant slumber party. I thought, "wow, how crazy am I to be camping overnight for 12+ hours for this one event??" But it was comfortable, quiet, and they played Disney movies for us on loop. We had a nice spot at the edge of the line, so we wouldn't have to climb over tons of people to walk back and forth to our spot. They had food stations too.
We took turns sleeping in shifts throughout the night. I watched anime here and there. It was kind of relaxing and fun. I heard the line to get in capped out sometime in the middle of the night/before early morning.
The closer it got to 10:30am, the panel start time, the more excited the atmosphere became. It was like waiting in line for a roller coaster, and then getting on the roller coaster, with the slowest trek uphill towards the largest drop. People started waking up and packing their things- the women's bathroom was packed with people putting their makeup on and getting their cosplays ready. At around 9am, the announcer woke us all up to get ready- and everyone cheered!
The security gave us thick, opaque plastic bags to seal our devices in. As we walked in, line by line, we had to hold our hands up in the air to show our wristbands and that our device bags were sealed. The whole process was strict and kind of intense- it was neat!
We finally made it inside the hall that held about 6000-7000 people, with Captain America's theme song playing as we entered. We were seated about 10 rows from the front, on the left side of the hall. It was clear that this was one of the biggest events of the weekend, and we were so grateful to have done our homework to get in!
Live Action Panel
I think the next two hours were my highlight of the entire weekend. The Live Action Panel was an exclusive first look at Disney/Lucasfilm/Marvel's upcoming projects. So many movie stars, confirmed news, and teasers were in front of us!! From being Oprah'd with free posters by Oprah herself, to seeing trailers for movies like The Lion King (everyone was crying), the Mary Poppins sequel, seeing the Star Wars cast onstage present the first look at The Last Jedi… it was all so amazing!
So, the Marvel section of the panel was saved for last- and it was clear that most everyone in the room was expecting this the most. Really, the biggest reason I was here was because I was hoping to get a glimpse of the upcoming Infinity War movie.
The CEO of Marvel Studios came out and hyped everyone up, and then he brought out the movie stars, one-by-one. The energy in the room was electric! I was freaking out, and SO was holding the guy next time him. It was clear that so many fans in the room were so happy and excited! It was such a good time to be a fan.
Robert Downey Jr. came out, and the whole room went insane even more- he presented us with the first exclusive look at Infinity War with some footage, and what would be the most awesome 3 minutes of my life!!!
—
Everyone inside of that room got the very first taste of Infinity War, that no one else anywhere around the world would be able to see for a while (until SDCC). The Live Action panel ended, but we still had to make it asap to the next big thing: the Video Game panel. Still reeling and drooling after it ended, and surrounded by crowds and crowds of people exiting the area, SO and I had a few minutes to rush across the expo to make it for the panel that would start in less than 30 minutes. SO especially wanted to make this one, he was anticipating Kingdom Hearts 3 news so hard.
We pushed through the convention crowds out of adrenaline and determination. Idk how, but we made it safe and sound to the panel with great seats, just in time!! Things were going incredibly well so far!
Things got even better, because indeed Kingdom Hearts 3 Toy Story things dropped. And then Buzz Lighyear and the green army men came out on stage and danced around Tetsuya Nomura, ha. What a treat. While all the Marvel stuff was more of my thing, KH3 was the biggest highlight for SO- he was so, so happy. And how could it possibly get any better? Well as we were exiting the panel, they gave all the panel attendees complimentary KH3 posters!
Sunday
So Saturday was a big day, and we weren't sure how much more exciting Sunday could possibly be. Especially since we were so tired and sleep-deprived. We thought the crowds would be smaller on the last day… but the lines outside were still just as long. Well, Sunday was still just as magical and amazing!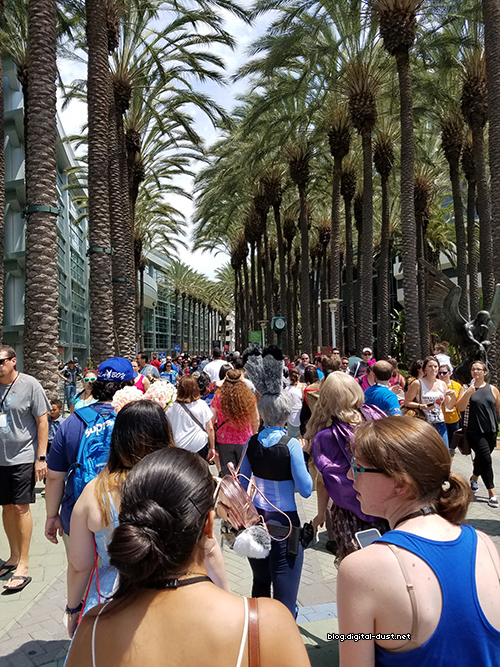 We finally made it inside to do some more final things on the show floor: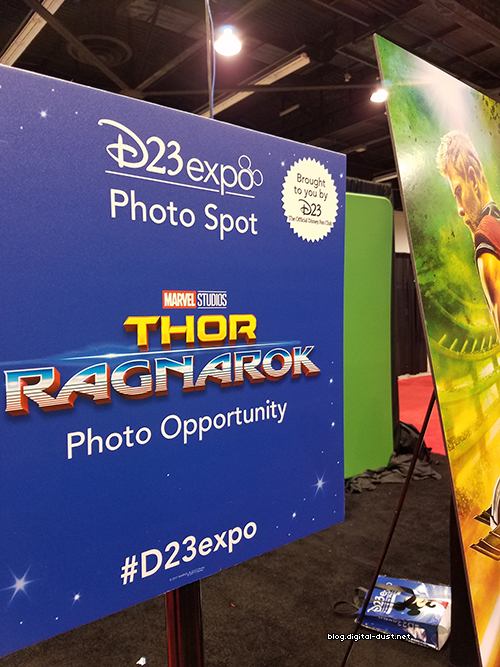 I was surprised at how small the line for this green screen booth was. I guess it was kind of a hidden gem!
We got stagepasses (what a system) to a panel SO really wanted to attend- Voice of Disney Parks.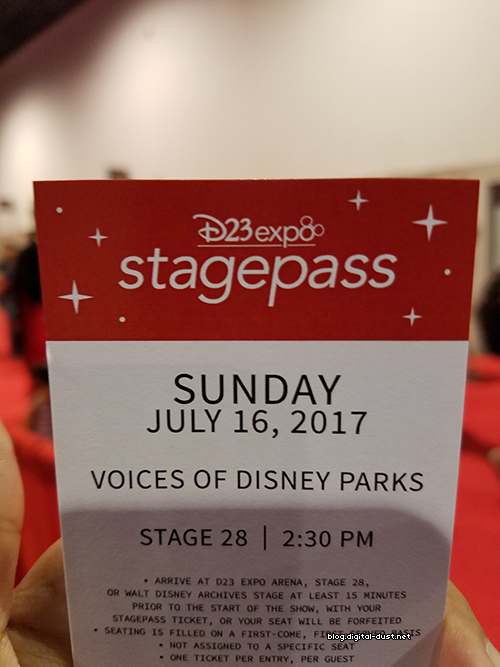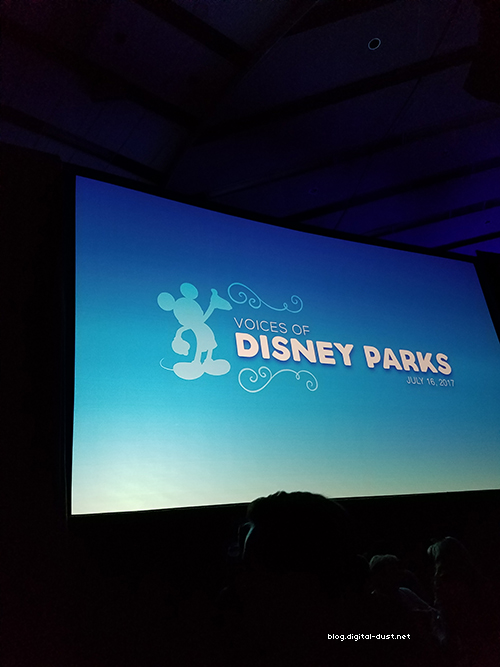 The panel was so much fun- huge respect for what voice actors do make things come to life!
Afterwards, we waited in line to get into a pirates exhibit, when I looked back and saw familiar faces… behind us were a close friend's parents I'd known for years! We chatted and caught up, which made the waiting in line pass by so much faster.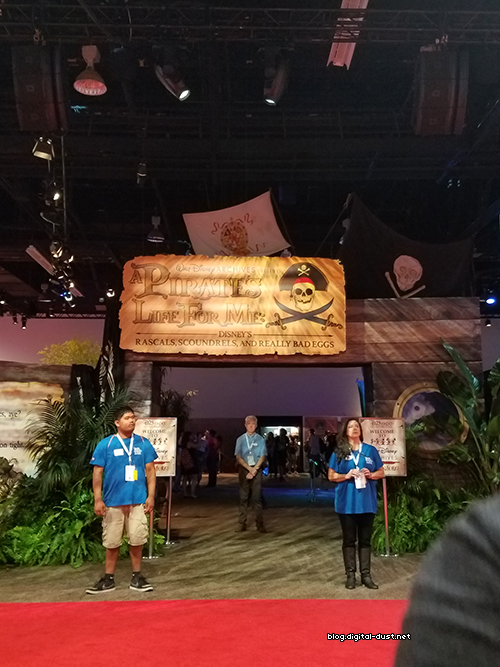 We looked back again, and we noticed someone else joined the line… one of the famous voice actors of Disney parks/Overwatch and more, who we just saw in the previous panel! This guy:
It looked like no one else around us recognized him except us. We were so nervous and excited. Once we got inside the exhibit, we quietly asked for a quick photo, and told him how awesome he is for his work. He shook our hand, asked for our names, was so grateful and super nice to us!
"You're both soldiers now… well, pirates actually."
Magical endings to weekend 1/3: randomly running into Overwatch/Disney voice actor in Pirates exhibit & getting a selfie! He was so nice! pic.twitter.com/IZ1cwhf2Np

— Mirabel (@chibi_m) July 17, 2017
Number of times we randomly bumped into Overwatch voice actors now: 2! Throwback:
Feeling super jazzed, we happened to walk by the Marvel Studios booth one more time, and we randomly stumbled (again) upon their last poster giveaway for the weekend. People immediately got in line of course (because people would get in line for things they didn't even know they were getting in line for). SO and I jumped in at the very last second. The line behind us grew! As we got closer, one-by-one, I saw that they were distributing exclusive Thanos posters. The closer I got, the more they ran out; I was so nervous I wouldn't get one. Lo and behold, the very last staff member with her last stack looked at me and gave me her last one!! I got the last Thanos poster of the weekend- SO and I cheered, and everyone behind me in line went "awwww :(" THIS IS TRUE DISNEY MAGIC.
SO EXCITING
Our last event of the D23 weekend was a chill and inspiring panel, hosted by John Stamos.
We definitely didn't get to do most of the things there (we missed the big Parks & Resorts and Animation panels, and didn't even get to explore the gigantic emporium side of the expo), and I think that was to be expected. I heard and read mixed reviews from other attendees who seemed unhappy and disappointed with how the expo was run. It sounded like there were major bugs in the system.
But for our first time with what we had planned and wanted to do, I think we did a pretty swell job! We kept getting lucky with lines and timing, and things fell into place really well. I didn't feel like any of my personal experience went badly or unfortunate at all- if anything, things went better than expected! And compared to other cons we've attended, we thought D23's cast members handled the huge crowds of people really well, for the massive scale of the event. Free stuff, great timing for lines, got into all the major stores, running into friends and famous people- it was so awesome!
I don't know if the next D23 Expo will be any easier or lucky for us, but we hope to attend again! And bring some of our friends too.
We're already planning our Disneyland trip for October's Halloween events. 🙂
July 26, 2017 - 6:54 pm |

Comments