In the past few months, I've been in a positive headspace and feeling pretty stress-free, so I've been making more time and energy for personal projects- like this! After 6 years with my severely outdated, poorly coded, first attempt at making a WordPress theme, I finally updated my blog with a new design! Well, I took inspiration from the last and basically used the same color scheme, but the backbone and foundation of this theme is completely different, and should be (hopefully) more user-friendly going forward!
Brainstorm sketches ranging from years ago to last month: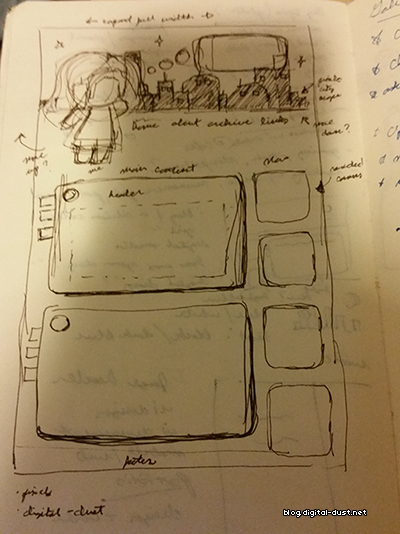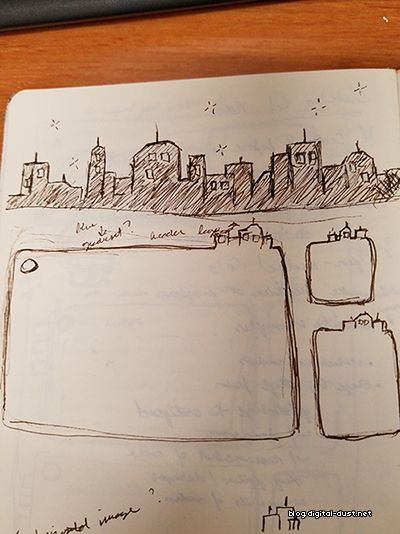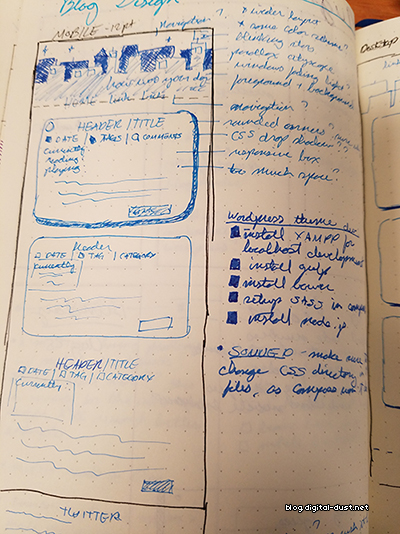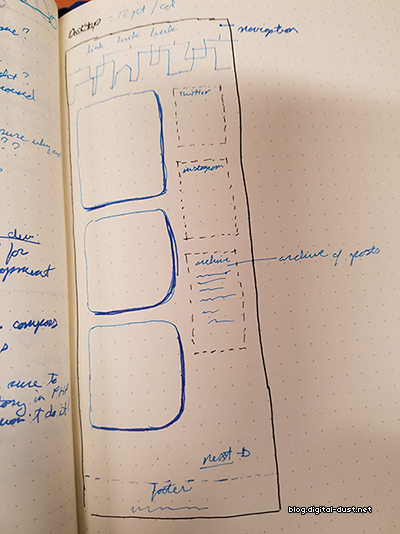 It looks like I know what I'm doing, but a lot of the time I kind of don't
This was my first successful-ish attempt at using Bourbon, Neat, Compass/SASS. Setting them up was a pain, but I'm glad I finally have them in my toolkit going forward. I barely scratched the surface in utilizing their full potential, but I hope to learn about them more and push myself a bit for the next project.
Some highlights and personal wins during the process:
Rounded corners are actually just a line or two of CSS, and no longer some embarrassing puzzle-piece images hacked together with overly complicated divs…
CSS animations at the top: blinking stars!
It can actually somewhat fit on a mobile screen -_-
StackOverflow having an answer to even the most inane of my questions
I know it's bad form to "launch" without properly finishing everything 100% to a tee, but since I was so excited about this personal project, I wanted to push it out and talk about this right away! My coding got a little lazy towards the end. A lot of details here are still messy and buggy, so I'm still continuing to work on smoothing out a few responsive related things and design tweaks. I still feel like I'm trying catch up on the latest technologies and skills needed for the web standards used today, but I enjoy the process and was glad I was able to accomplish at least this much- I didn't lose as much knowledge as I thought!
September 18, 2016 - 3:54 pm |

Comments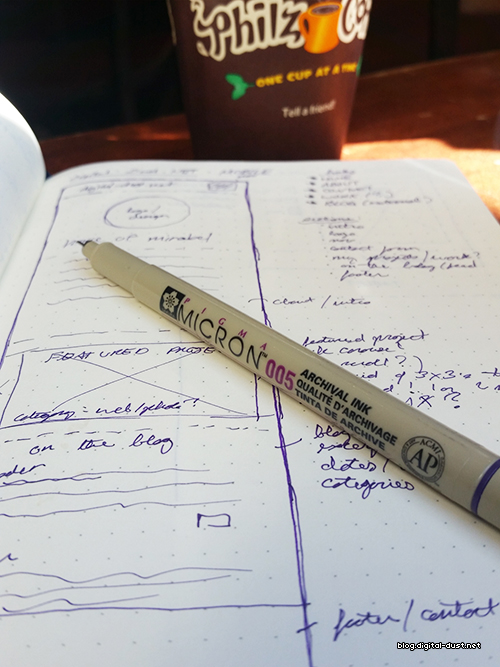 I've been working on another redesign for http://digital-dust.net, and I'm pretty excited to share it! I don't like the way things were coded on it from last year, and parts of it are actually still unfinished/unrealized. I'm also trying to keep up with web standards, and figuring out cleaner and better methods in the overall design process. Bootstrap was a good start, but I've been researching and looking at a few different frameworks, as well as other CMS options.
I'm in the middle of getting wireframes done, and browser prototyping will start soon. Feeling a little noobish, as I've already gained a few lessons learned from this!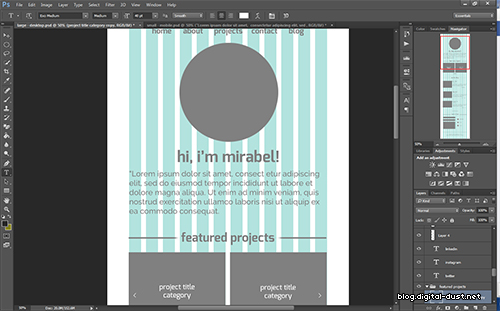 Early sketches for an overhaul of this blog are in the works, too! This theme was hand made like… geez, 6 years ago? It's due for a SERIOUS update, since my knowledge has definitely grown a bit, and this blog needs a few basic blog necessities like mobile responsiveness and other fun things I want to try in CSS.
There's one more big project I'm looking forward to sharing by the end of summer- a collaboration that will be a little bit more public and business-y! Stay tuned!
July 2, 2016 - 2:13 am |

Comments
I recently had the opportunity to work on a web project for an awesome local Bay Area ballroom supply store, and redesign and setup a new eCommerce website for Feather Dance Shoes.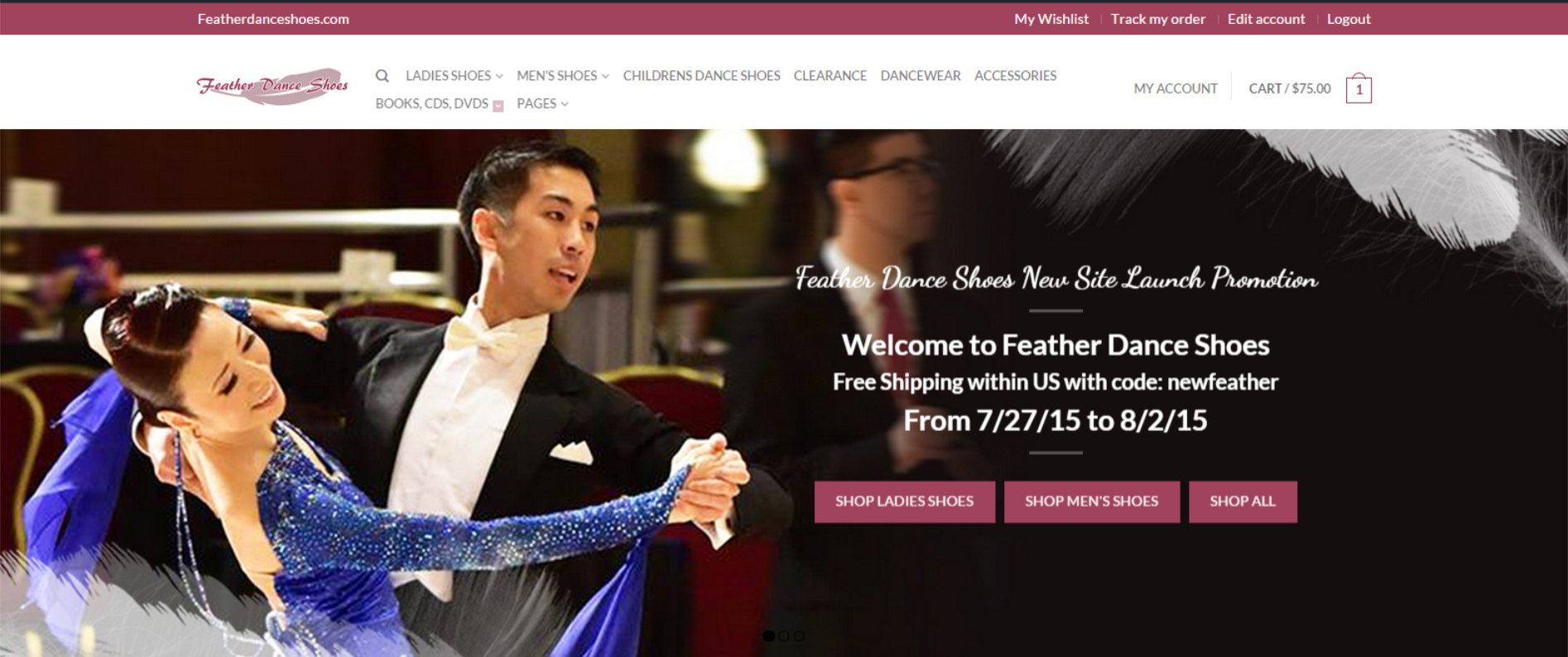 The official site launch is today- and for fellow dancers looking for a good deal on shoes and inventory, Feather Dance Shoes is offering free shipping in the US with code newfeather on the site for a limited time!
eCommerce sites are very tricky projects. I hope to continue working on more tasks like these to hone my development skills!
July 27, 2015 - 3:54 pm |

1 Comment