2016 is coming to a close on my side of the world! It's been a strange year in social media/politics/pop culture. But on a personal level, it's been one of the most positive years I've had.
Getting a little personal – 2015 was an incredibly difficult year for me. A toxic job & work environment, a sudden move after losing a home of 15 years, dealing with the fall out of a previous relationship that refused to end, car dealership complexity and greediness- for that time, all of these things caused me a new level of anxiety and depression that I've never felt before.
But it was the start of a lot of great new things and transitions too. Immersed myself in dance despite the chaos, blossomed through a new, wonderful and healthy relationship, traveled with friends more than I ever did before, resolved car dealership greediness, and finally broke out of a bad place and into a new one before Christmas.
Then, 2016 happened. It's been a rough time in the media. But it was a great time for personal blossoming, and I'm super grateful for all the memories and opportunities I've been given. I want to recognize a few wins and memories this year!
Got my first custom-made latin dance dress
Performed open routines in competition for the first time

My 1st annual Silicon Valley Comic Con

My 1st NTC – Nonprofit Technology Conference

My 9th year attending FanimeCon and my 6th year staffing!
Danced a Metal Gear Solid routine for said anime convention ball
Utada Hikaru's new album
Frank Ocean's new album
The Weeknd's new album
Bruno Mars' new album
Pokemon Sun/Moon
Having someone special to play Pokemon with

Final Fantasy XV
Rogue One
Captain America: CIVIL WAR NUFF SAID

Doctor Strange came out on my birthday
Movies in general- watched 23 of them in theaters (the most I've ever seen in theaters in a year! Thanks to bf for loving movies so much!)
Cardcaptor Sakura anime announced
Ballroom e Youkoso anime announced
Reunited with my childhood summer vacation family in SoCal for the first time in 14 years

Met my favorite VA, Steven Blum, for the first time

Saw my favorite childhood boyband, Backstreet Boys, live for the first time
Celebrated the 1 year anniversary of the best job ever
Cheers to nostalgia of old times past, the exciting and ever-changing present, and to a great new year full of more memories in 2017!
December 31, 2016 - 11:30 am |

Comments
Autumn is my favorite time of year! It's been a good past month to attend a lot of events and enjoy the transition into fall.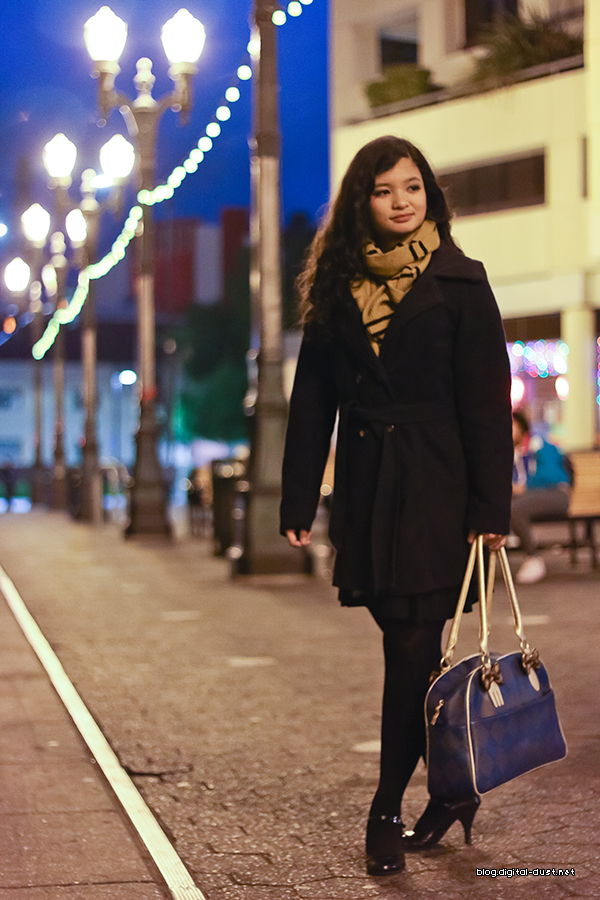 We went to San Francisco a few weeks ago to watch the Blue Angels during fleet week. I wanted to visit a place I've been eyeing for a while (La Marais Bakery), because I heard about their delicious french desserts – I tried a nutella creampuff and it was amazing…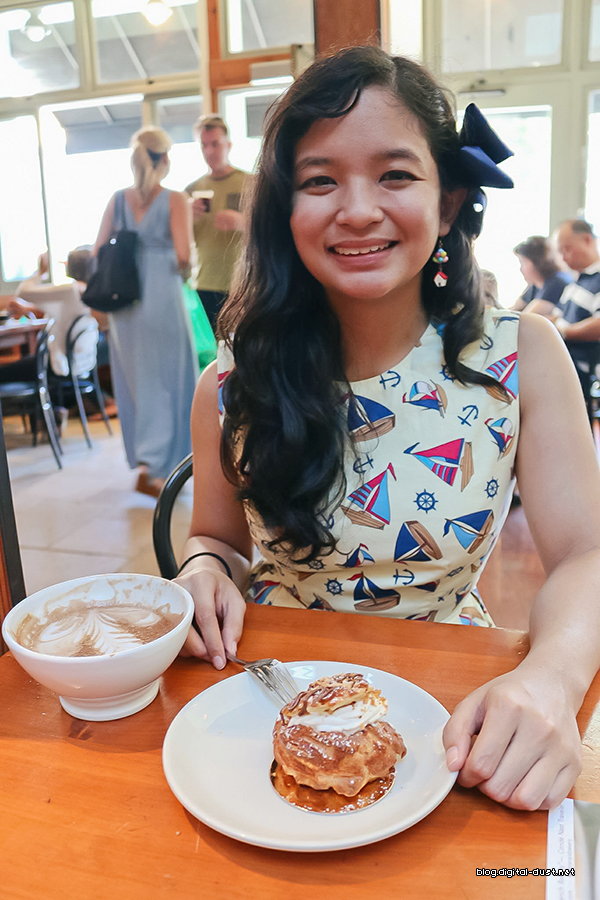 Wearing a handmade dress to match SF!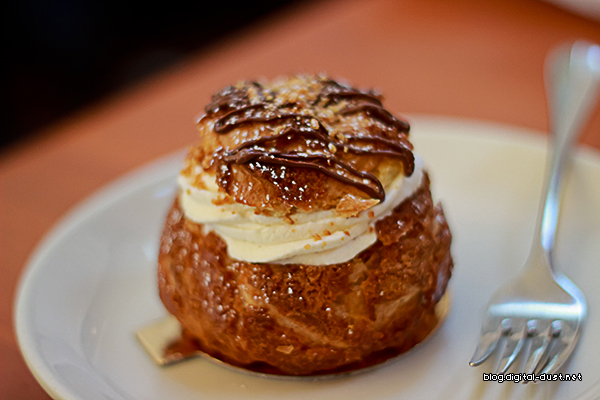 We went to Berkeley this past weekend to attend and photograph a beginner ballroom dancesport event. It was a lot of fun to see newcomers enjoying themselves. We got to dance just a little bit, too.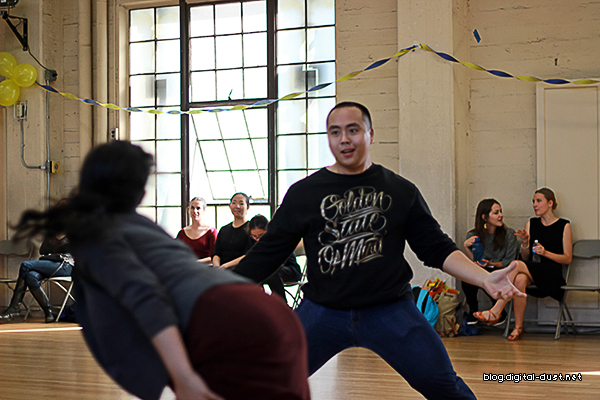 While in downtown, we checked out this dessert place for delicious taiyaki with black sesame ice cream… it was pretty delicious.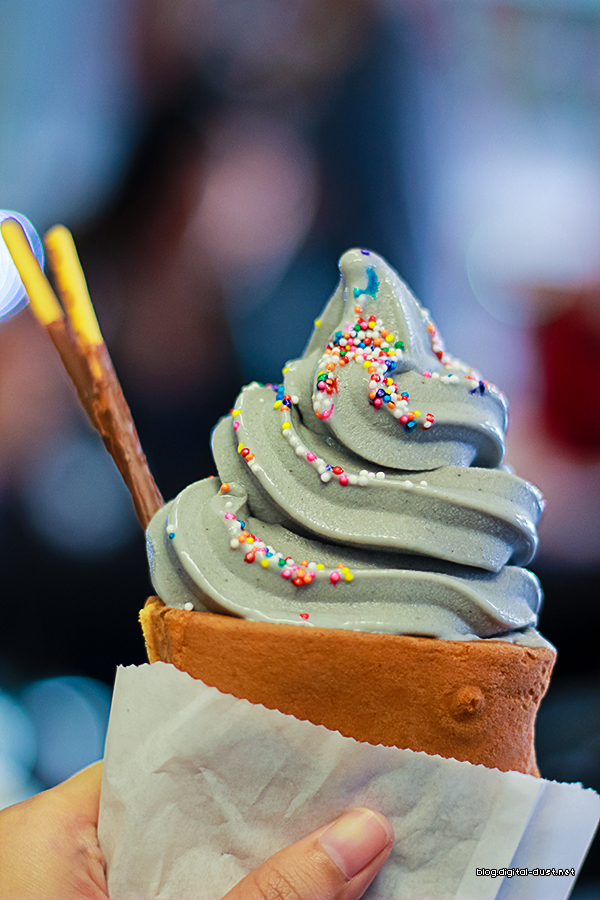 Later that night, we attended SJSU School of Music and Dance's first annual Kaleidoscope event! My cousin performed as a pianist for one of the acts. Overall, it was an ah-may-zing show!
–
So, I've been having a lot of fun lately- attending shows, trying out all the food, attending new/familiar events, keeping up my physical health, dancing, staying in touch with good people and colleagues, being in a great career, seeing new sights in familiar places in the Bay Area. I've even recollected some materials to bring back sewing and crafts into my time again. The past year has been really good to me, and I'm really grateful for where I am now. Because one year ago, that was certainly not the case.
Autumn is really important time of year to me. It's been almost a year since I underwent a major change, closing a new chapter and starting a new one.
In the past year, I've discovered how fulfilled I felt working in the tech sector of the nonprofit world and contributing towards an international cause. For the first time, I feel like I've finally arrived at a working environment and mission that's right for me. An article on Medium.com that recently went viral dredged up some sudden memories from last year, and I've been reflecting a lot on that experience lately. Too  much of the article hit home and were eerily similar to what I experienced and observed. A friend told me a while ago that I was basically coping with post-trauma. I'll be finally ready to share that story soon.
At the same time, I've been inspired by positive friends, family, colleagues, podcasts, and media to try some projects and have a little bit of fun, with a little bit of challenge and and a little bit of vulnerability. Not sure how things will go, but figured I might try this!
Inspired by a few things and itching to do more things outside of work and dance, I'm excited and nervous to share:
1. An experimental podcast project, featuring friends and colleagues in the arts/tech/creative industries
2. A writeup about my transition from startups to nonprofits
I've been listening to a lot of excellent podcasts lately, in genres ranging from comics to coding to fiction. After mulling it over and planning it out through September with ideas, I decided to try it out as an experiment, and have asked a few initial people about it. I have a list of people in mind, and have already asked a few. Microphone and the rest of the equipment is basically ready to go- it's just taking the first step that's the hardest! I hope to be a better speaker and a better listener through this journey. More details to come later!
October 24, 2016 - 5:48 pm |

Comments
In the past few months, I've been in a positive headspace and feeling pretty stress-free, so I've been making more time and energy for personal projects- like this! After 6 years with my severely outdated, poorly coded, first attempt at making a WordPress theme, I finally updated my blog with a new design! Well, I took inspiration from the last and basically used the same color scheme, but the backbone and foundation of this theme is completely different, and should be (hopefully) more user-friendly going forward!
Brainstorm sketches ranging from years ago to last month: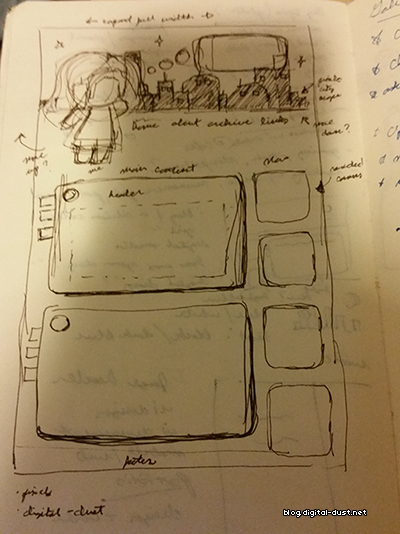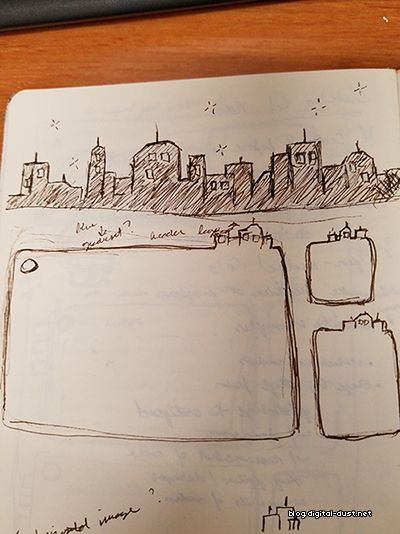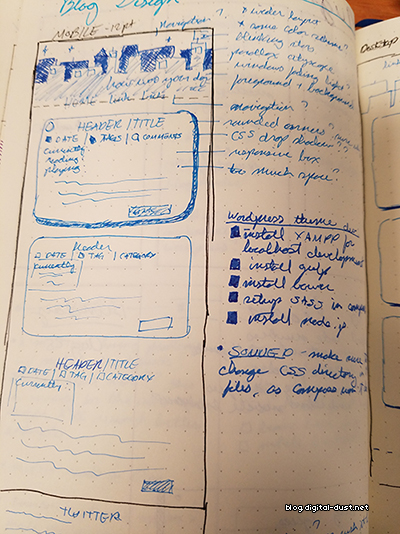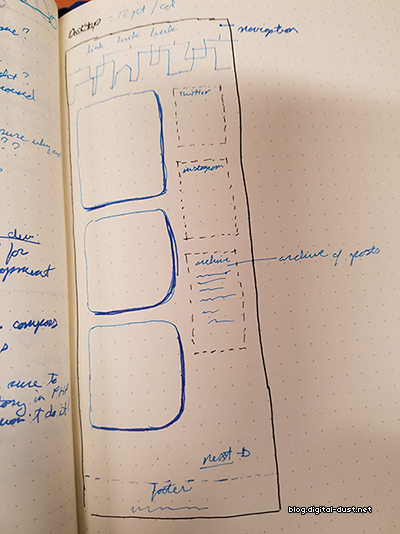 It looks like I know what I'm doing, but a lot of the time I kind of don't
This was my first successful-ish attempt at using Bourbon, Neat, Compass/SASS. Setting them up was a pain, but I'm glad I finally have them in my toolkit going forward. I barely scratched the surface in utilizing their full potential, but I hope to learn about them more and push myself a bit for the next project.
Some highlights and personal wins during the process:
Rounded corners are actually just a line or two of CSS, and no longer some embarrassing puzzle-piece images hacked together with overly complicated divs…
CSS animations at the top: blinking stars!
It can actually somewhat fit on a mobile screen -_-
StackOverflow having an answer to even the most inane of my questions
I know it's bad form to "launch" without properly finishing everything 100% to a tee, but since I was so excited about this personal project, I wanted to push it out and talk about this right away! My coding got a little lazy towards the end. A lot of details here are still messy and buggy, so I'm still continuing to work on smoothing out a few responsive related things and design tweaks. I still feel like I'm trying catch up on the latest technologies and skills needed for the web standards used today, but I enjoy the process and was glad I was able to accomplish at least this much- I didn't lose as much knowledge as I thought!
September 18, 2016 - 3:54 pm |

Comments
Last weekend, we attended SacAnime in Sacramento, CA (and admittedly, I think it was our first anime-themed convention outside of FanimeCon!). We staff full time for FanimeCon as dance instructors/performers every year and enjoy it immensely, but we don't really have the time or bandwidth to experience it as regular attendees anymore. The only event there I've attended outside of Black & White Ball was probably a fashion show or two!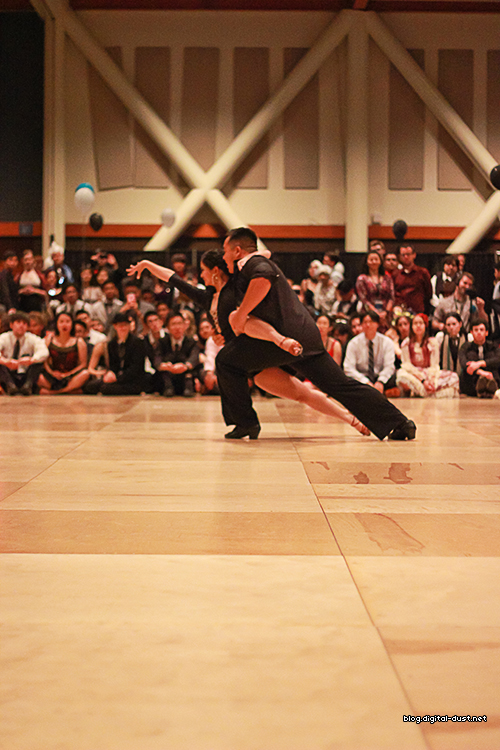 Our performance at this year's FanimeCon Black & White Ball
So, it was nice to go to SacAnime as a con-goer with an itinerary of events to choose from and enjoy the weekend with. We were really excited about the opportunities to attend panels and have never really seen a famous VA up close before, so it was our chance to check it out!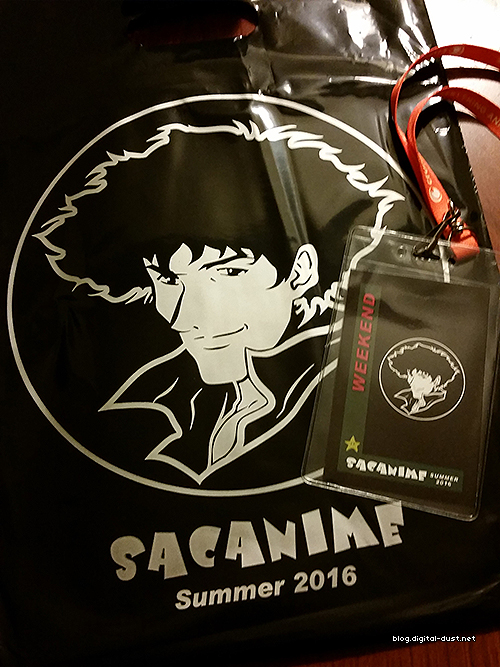 Our first panel was a Q&A by Travis Willingham and Laura Bailey. They were a lot of fun, and it was kind of surreal seeing them in the flesh and hearing their voices live! I enjoyed hearing their answers about the industry and their insight into their voice work.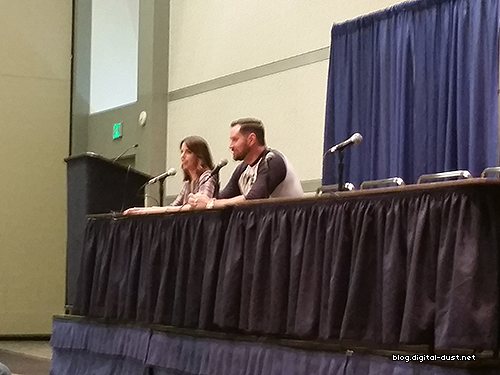 Next was a Cowboy Bebop Reunion panel, which I was super excited for! The anime Cowboy Bebop means a lot to me, and it aired during a time when I hit adolescence and transitioned between awkward and socially difficult phases of my life. Things are obviously different now that I'm an adult with a good life, but after all these years, I'm still a sentimental fan.
You can see me sitting in front! 😀

The panel filled up quickly, but we grabbed decent seats. Seeing my childhood voice actors up close and hearing them talk live was a crazy experience! I was lucky to get the chance to ask a question to the Bebop crew, and felt incredibly honored to receive such a reflective and insightful response from them. We got it on video!

The next day, I had the opportunity to meet VA Steven Blum and grab his autograph! He remembered me and my question at the previous day's panel and took the time to comment on it- I was so grateful. What an awesome and humble person!



It's been a few days later, but I'm still feeling inspired and childhood-nostalgic from the experience. The boyfriend and I are feeling convention crazy and are wanting to try out a lot different events around the Bay Area this year. Now that I'm a little older, I have a better appreciation and understanding of the work and travel that artists and actors in the anime/game/entertainment industry do for fans. Looking forward to attending more cons, and hopefully seeing more guests of honor!
In the meantime, look out for a new blog redesign coming in this week or next! 🙂
September 8, 2016 - 5:26 pm |

Comments
I've been thinking about a write up to my recent vacation from early August for a while! I could post all the long details and pics of every day and how amazing the Wizarding World of Harry Potter was, the deliciousness of butterbeer, buying my first wand, seeing the Disneyland 60th celebration one last time, my first Disney alcoholic beverage at the Cove bar, visiting Captain America again, etc… but I keep coming back to thoughts about my reunion and memories with family, and how it made the entire trip even more magical.
—
Mission Viejo was as golden as I remembered.
During my recent vacation, I came back to this part of SoCal with my cousins for an impromptu reunion after over 14 years. The last time I was here, I was as an adolescent away from my parents for weeks-to-month long getaways. It was a place and a moment in time where summer felt as endless as it was fleeting. It felt so long ago, but the memories were still bright and warm.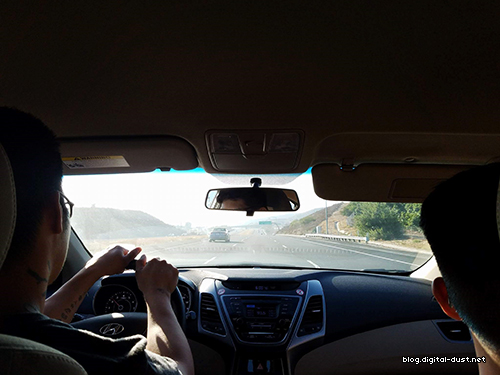 In the early 2000s at a large vacation home full of love, my aunt inhaled the teenage cousins away from their parents for the summer season and spoiled us with theme parks, summer outings, chores, and life lessons. As an only child, it was the closest I felt to having a house full of siblings, spoiled only with excitement of upcoming activities and trips planned for the visit. It was my first time experiencing any sort of significant Disney or Hollywood experience, or even that long of a vacation escapism, before I hit middle school. It was the start of an addiction to the magic and longing that Disney parks brought, that I wouldn't be able to reach again until my mid-20s.
On a hot summer day in 2016, I finally visited her grave for the first time. I was never able to come here before, until now. The weather and the city were the same shade of gold and warm that I remembered. It's as if summer never ended here and was waiting for me to come back.
All of us cousins were there, older, grown-up, discussing our various careers and adult paths. But one of them suddenly pulled up a viral and shocking picture of an Olympian with a broken leg on their phone, and we all backed away and cringed out loud. Suddenly we were loud and obnoxious kids again, laughing at ourselves and reminiscing around the grave.
Later that night, my boyfriend and I held hands in Disneyland, watching the parks lights and festivities shimmer at night. I'm finally able enough to come here and indulge whenever I want, whenever I need to. Over a decade later, a sudden appreciation for everything that happened back then and now hit me hard. I still get lost in thought thinking about summer days in Mission Viejo whenever I visit any Disney park. I like to think my aunt would be happy that I found someone to share the vacation tradition with as adults, and that we continued to keet that bit of our childhood alive!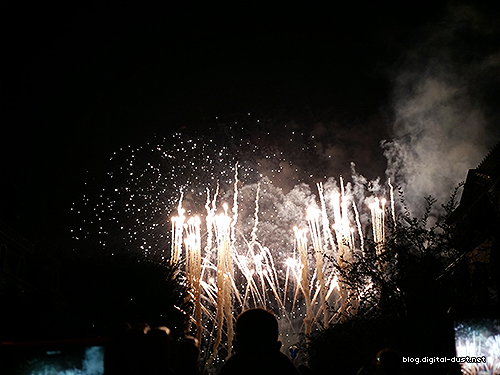 August 22, 2016 - 2:51 pm |

Comments